New Table creation
New Table creation
Set focus to "Tables" in the Database Navigator, select 'Create New Table'.
A new table is created with the default name "newtable". Go to the 'Properties' tab to rename it
As soon as you set the Table Name (1), move to the 'Columns' tab (2)
Right click on the Column screen, select 'Create New Column'
BTW: Another way to add a new column is to expand the table view in the Navigation pane (1) and 'Create New Column' from the context menu (2)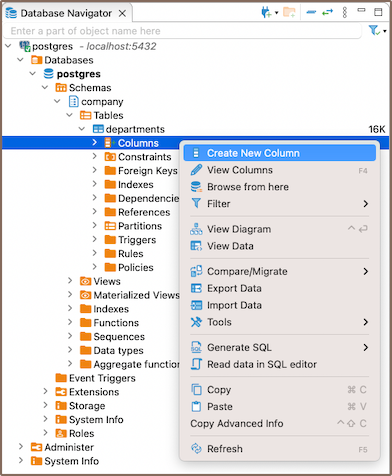 A new column is created with a default column name and Data Type. Adjust the column properties as you wish.
BTW: To tick the checkbox (e.g. "Not Null") click the field and select "yes" from the dropdown list

Add more columns

Create a second table: right click menu on 'Tables' in Navigator -> Create New Table ,
Primary Key creation
Move to the 'Constraints' tab of the corresponding table, right click on the screen -> 'Create New Constraint'

Select the column (1)and save (2) ,

Save the tables: select the table in Navigation pane (1) an press 'Ctrl+S' (or Top menu -> File -> Save, 'Persist' the changes (2). ,
Foreign Key creation
Go to 'employees' table, 'Foreign Keys' tab. Right click on the screen -> Create New Foreign Key ,
Did we resolve your issue?