Introducing DBeaver Team Edition, a highly secure data management tool for teamwork. Configure roles and teams to manage data access by user level. Share resources across your teams in real time. Use Team Edition at any workspace – the desktop app or from the browser.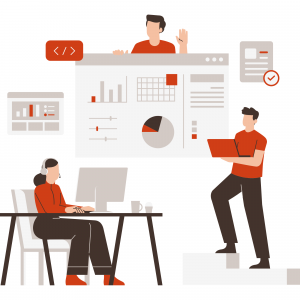 Manage Users Easily
Organize users' access in a couple of clicks through integration with a third-party authorization system (AD, SAML, SSO).

Give the team a single data solution
Get the full functionality of DBeaver Ultimate but with advanced data collaboration capabilities.
Keep your data under control
Provide team members only the resources and functionality they need to work with.
Get a powerful tool for secure and efficient data collaboration
Let all teams speak one data language. DBeaver Team Edition is suitable for departments:

Web developers
Software developers
ML engineers
Data architects

DevOps
CloudOps
DBA
Technical support

Data analysts
Financial analysts
CFO
Sales manager
Marketing manager
Product manager
Content manager

Accelerate cross-team data collaboration with DBeaver Team Edition