GCP SSO
Note: This feature is available in Ultimate and Team editions only.
GCP web browser-based authentication allows you not to use a service or user-based key file, or other default authorization methods. You can provide access to your connection by authorization through the Google account.
GCP CLI
To enable SSO authorization, you need to install GCP CLI (Command Line Interface) utilities.
GCP CLI installation
If DBeaver didn't find your executable CLI file (error message: "Authentication error: Error running GCP CLI. Is it installed on the local machine?)", you can add the path for your executable file manually in the Preferences -> Connections -> Cloud Configurations -> GCP Configuration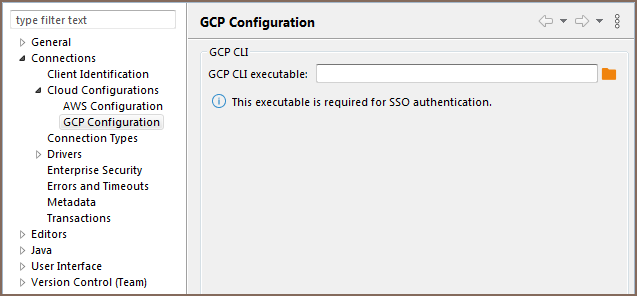 GCP web browser-based authentication configuration
First gcloud auth print-access-token request to your CLI will be used. If token will be not empty, then this token will be used for the authentication. If token will be empty, then command gcloud auth login will be executed, which will open the web-browser and offer to choose your Google account.
Connection configuration
In the DBeaver database connection dialog, you need to:
Set Authentication to Google Cloud IAM.
Set Credentials to Web Browser.
Add user and password info if they needed
Now you can connect. DBeaver will open a web browser with SSO authorization. Choose your account with Goggle projects on the web page.
As example: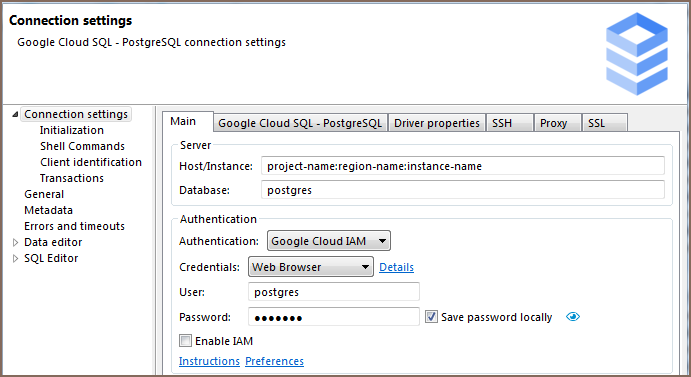 Did we resolve your issue?