Advanced features of DBeaver PRO allow users to explore, process, and administrate Oracle, MySQL and many other possible SQL, NoSQL, and big data sources.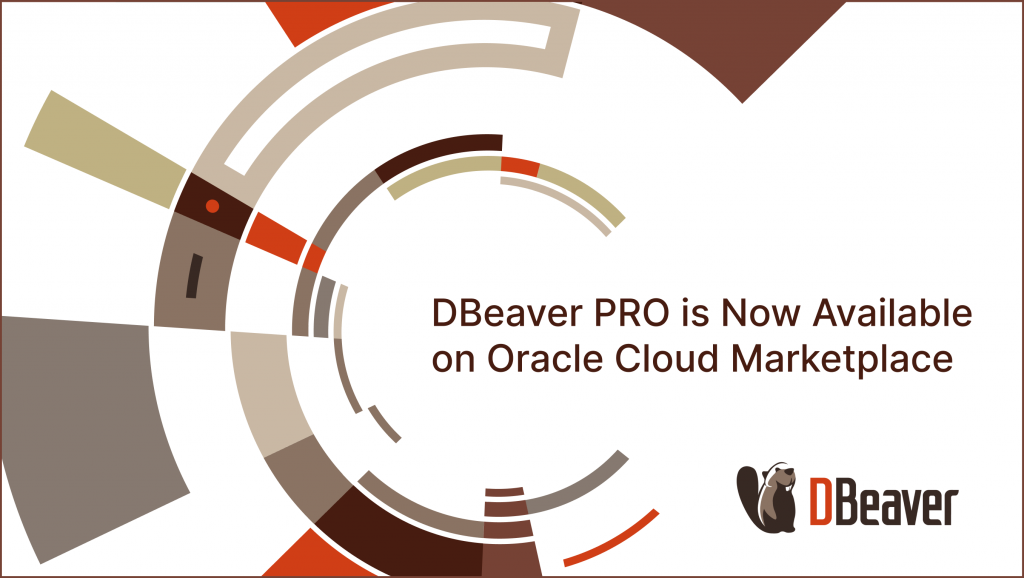 NEW YORK, December 22, 2022 – DBeaver, a leading provider of database management tools and a member of Oracle PartnerNetwork (OPN), today announced DBeaver PRO is available on Oracle Cloud Marketplace and can be integrated with Oracle Database Cloud. Oracle Cloud Marketplace is a centralized repository of enterprise applications offered by Oracle and Oracle partners.
DBeaver PRO applications (Lite, Enterprise, Ultimate, and CloudBeaver) provide a data management solution that increases efficiency, lowers costs, and reduces routine operations. Key benefits include:
Keep your data safe. DBeaver PRO supports modern security standards for database connectivity (SSO, SSL, SSH, and more).
Easily transfer data. Data can be easily transferred between Oracle and different databases, and imported or exported in multiple file formats. Data types that users can work with include less common types such as: BLOB, CLOB, XML, geometry, and geography.
Simplify working with data. It is easier to work with data when using the DBeaver PRO powerful data editor: edit, analyze, filter, visualize, and compare data, compare tables and schemas in one or several databases. Users can visualize and edit databases with ER Diagrams, navigate to related tables in one click, create, compile, edit and delete Metadata objects, and generate mock data for testing consistencies and queries.
Increase data usage. There are fewer obstacles while writing and executing scripts: users can apply autocomplete and highlighting determined by Oracle, use query history and execution plan to manage scripts, or leverage the visual query builder to easily build and structure queries with on-screen guidance.
Manage your databases. Session manager also has administration benefits, which help keep your databases under control: check database connections, upgrade versions, configure user roles, privileges, and backup tools.
Reduce routine operations. Reduce routine DBA operations by creating Tasks and using Task Scheduler to run them automatically.
Flexible setup and configuration. There are several ways to configure Oracle database connection (host/port based configuration, TNS, Custom URL) and several ways to perform authentication such as OS Authentication, Oracle Wallet, and Kerberos.
Oracle Cloud Marketplace is a one-stop shop for Oracle customers seeking trusted business applications offering unique business solutions, including ones that extend Oracle Cloud Applications. Oracle Cloud is an enterprise cloud that delivers massive, non-variable performance and next generation security across a comprehensive portfolio of services including SaaS, application development, application hosting, and business analytics. Customers get access to leading compute, storage, data management, security, integration, HPC, artificial intelligence (AI), and Blockchain services to augment and modernize their critical workloads. Oracle Cloud runs Oracle Autonomous Database, the industry's first and only self-driving database.
"Working with data within the company should be understandable for all involved in the process. Our main goal is that all employees can speak about data in the same language, share scripts, create reports, analyze them and get the most out of them, never mind what databases they use and how many of them," said Tatiana Krupenya, CEO, DBeaver. "DBeaver's participation in Oracle Cloud Marketplace further extends our commitment to the Oracle community and enables customers to easily reap the benefits of DBeaver PRO. We look forward to leveraging the power of the Oracle Cloud to help us achieve our business goals."

About DBeaver
Headquartered in NY, USA, DBeaver Corporation is an information technology company that develops and maintains database management tools. We know how to help people from different areas speak about data in the same language. We supply our products to users worldwide and receive more than 1 million downloads per month.
About Oracle PartnerNetwork
Oracle PartnerNetwork (OPN) is Oracle's partner program designed to enable partners to accelerate the transition to cloud and drive superior customer business outcomes. The OPN program allows partners to engage with Oracle through track(s) aligned to how they go to market: Cloud Build for partners that provide products or services built on or integrated with Oracle Cloud; Cloud Sell for partners that resell Oracle Cloud technology; Cloud Service for partners that implement, deploy and manage Oracle Cloud Services; and License & Hardware for partners that build, service or sell Oracle software licenses or hardware products. Customers can expedite their business objectives with OPN partners who have achieved Expertise in a product family or cloud service. To learn more visit: oracle.com/partnernetwork
Trademarks
Oracle, Java, and MySQL are registered trademarks of Oracle Corporation.