Austin, TX, Nov. 20, 2023 – DBeaver Corporation, a leading provider of universal database management tools, today announced the appointment of Dion Cornett as its new President. Cornett will be responsible for leading the company's global growth strategy and overseeing its day-to-day operations.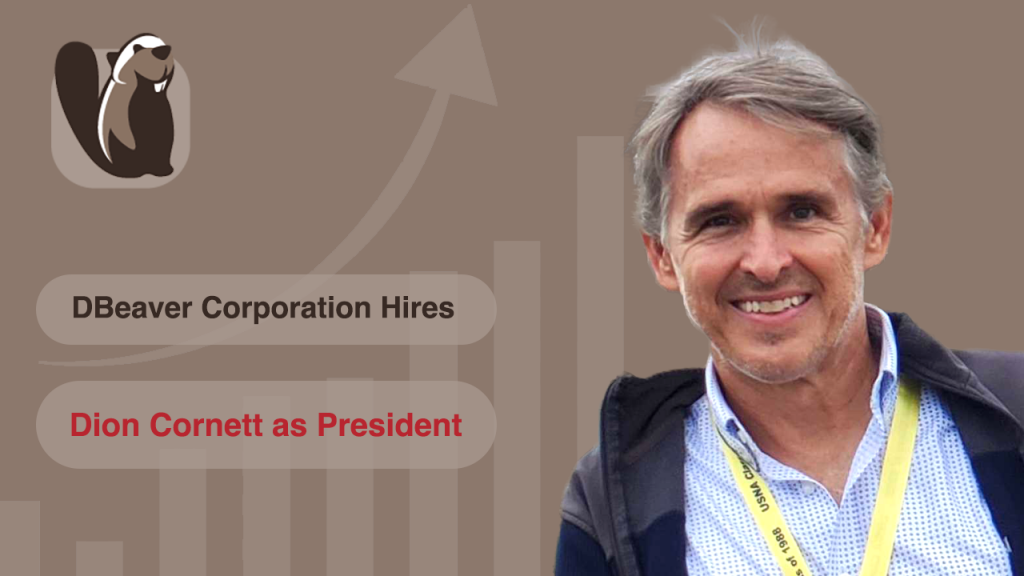 DBeaver has experienced explosive growth in recent years, from 300,000 to over 8 million users in just six years. The appointment of a new president comes at a time of continued expansion for the company. DBeaver has recently secured $6 million in funding, which will be used to invest in product development, sales, and marketing.
Cornett brings over 25 years of experience in the software industry, including senior leadership roles at Red Hat, MariaDB, ReachForce, and Liquibase. He is a recognized expert in open-source software and database technologies.
"The DBeaver team is pleased to welcome an enthusiastic professional such as Dion as our new President," said Tatiana Krupenya, CEO of DBeaver Corporation. "He is a visionary leader with a proven track record of successfully growing and scaling software companies. I am confident that DBeaver will continue to accelerate its growth and become the leading working with data platform under his leadership. And our customers will continue to get a quality product. I am sure that we have an exciting journey ahead of us."
"I am excited to join DBeaver at such a pivotal time in the company's history," said Cornett. "This is one of the fastest-growing software companies in the world. I look forward to working with the team to expand our product offerings, reach new markets, and make DBeaver the go-to database management solution for businesses of all sizes. I believe that DBeaver has the potential to become ubiquitous within enterprises by democratizing data across a hundred different database families for a wide variety of roles."
About DBeaver Corporation
DBeaver Corporation is a leading provider of universal database management tools. Its flagship product, DBeaver, is a free and open-source database client that supports over 30 different systems. Millions of tech and business professionals worldwide use community and enterprise apps by DBeaver Corp. Company offers tools that allow safely, quickly, local, and by-the-cloud service drivers to connect to 100 different types of databases.