Overview
AWS Marketplace
You can subscribe to CloudBeaver EE in the AWS Marketplace here: https://aws.amazon.com/marketplace/pp/B08QTY2JTF.
There is a one month trial period.
IAM/EC2 installation
After launching EC2 instance based on CloudBeaver IAM, open the page http://EE2_IP/ where EE2_IP is the IP address of your new EC2 machine.
On the first page you will see server configuration wizard.
You can connect to your EC2 instance using SSH. You need to specify the SSH keypair during the EC2 instance launch. You can use the user name ubuntu to connect.
Docker image
Besides AWS marketplace you can run CloudBeaver AWS from docker image.
In this case you will need specify a license during product configuration. A license can be purchased on https://cloudbeaver.io website.
Docker images:
dbeaver/cloudbeaver-aws:latest - latest release build.
dbeaver/cloudbeaver-aws:dev - latest developer build.
dbeaver/cloudbeaver-aws:[version] - image of exact version of CloudBeaver AWS.
To install just run command:
sudo docker pull dbeaver/cloudbeaver-aws:latest

To run cloudbaver in the terminal:
sudo docker run --name cloudbeaver --rm -ti -p 8080:8978 -v /var/cloudbeaver/workspace:/opt/cloudbeaver/workspace dbeaver/cloudbeaver-aws:latest

License
If you install CloudBeaver AWS from AWS Marketplace then you don't need a license as it is a part of Marketpace agreement.
If you install it from docker image then you need to purchase a license.
Troubleshooting
If you installed CloudBeaver AWS from Marketplace but it still asks for a license then it may be a result of problems with EC2 metadata service availability. This may happen if your AWS policy requires use of IMDSV2 and restricts use of IMDSV1.
As CloudBEaver runs in a docker container it has different IP address and can't connect to EC2 metadata service IMDSV2. Thus it can't determine that it was run from MArketplace installation.
Solution: run docker container with parameter --network host. Thus CloudBeaver will have the same IP address and can access EC2 metadata.
Cloud explorer
You can use an embedded Cloud explorer in order to find and add existing AWS databases: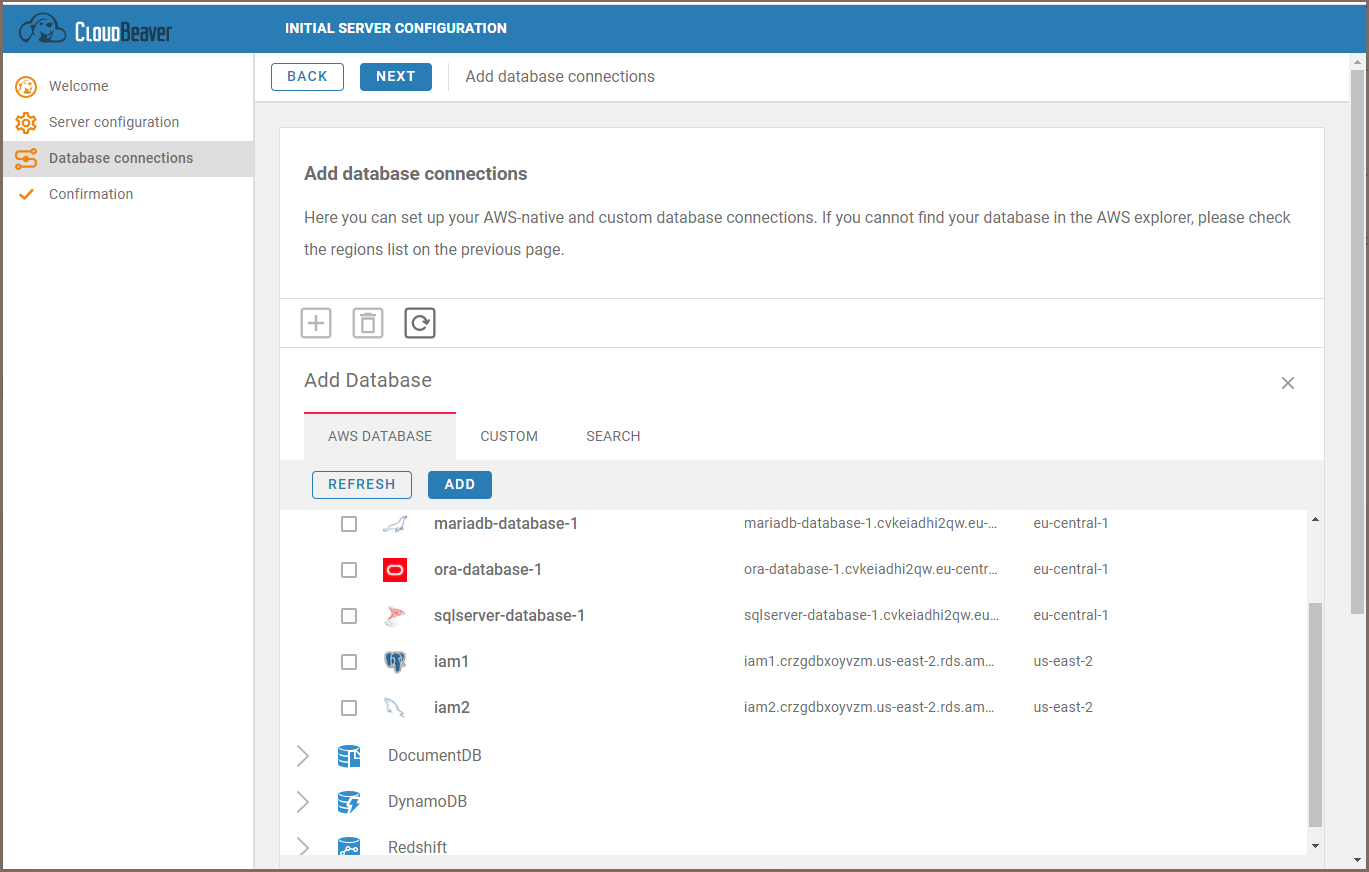 Did we resolve your issue?