Projects
Table of contents
The Projects view allows the creation of new projects as well as renaming and deleting projects that are not active. NOTE: You cannot rename or delete a project that is set as active.
Creating Project
To create a project, in the Projects view, in the toolbar, click Create Project (

). The Project Create Wizard opens.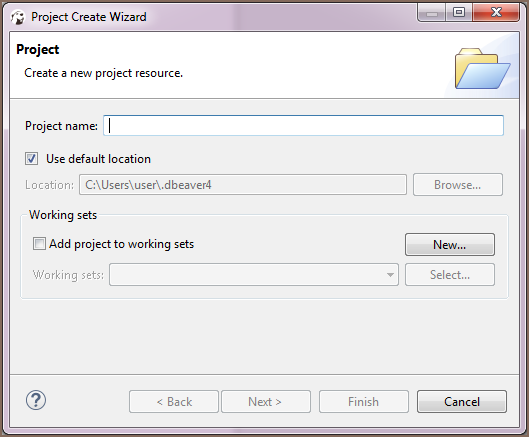 In the Project screen, in the Project name field, specify the name of the project.
To keep the default location to store the project, leave the Use default location checkbox selected. If you want to change the location, clear the checkbox and enter the name of the new directory into the Location field or click Browse and select the directory in the folder tree.
Click Finish. The new project appears in the projects tree.
Deleting Project
To delete a project, in the Projects view, right-click its name in the tree and click Delete on the context menu. Two confirmation dialog boxes will appear one after another:
Delete object dialog box is to confirm the deletion of the project itself. Click Yes if you are sure you want to delete it. Otherwise, click No.

Delete project dialog box is to confirm the deletion of the project's contents. These are the project configuration files and scripts stored in the file system. Click Yes if you want the contents to be deleted as well. To keep the contents, click No.
NOTE: If you have deleted a project and then re-create it with the same name, the new project picks up all the database connections of the deleted project.
Did we resolve your issue?